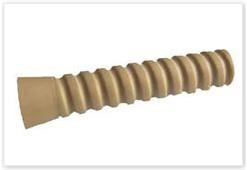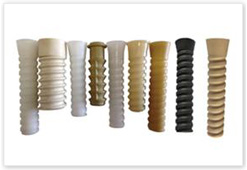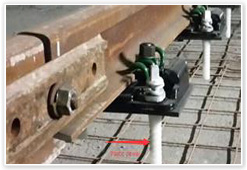 Rail plastic dowel is also called rail plastic sleeve/plastic insert/concrete dowel/ It is pre-embedded into concrete sleepers, together with sleeper screw, rail pad and rail insulator to fix the rails.
In a rail fixing system, rail plastic dowel can be regarded as a fixed foundation because it needs to be separately pre-inserted into the concrete sleeper before assembling the rail fixing system parts. Used to ensure a good connection between the rail fastening system and the concrete sleepers.
On the other hand, similar to the rail pad or rail insulator, another function of rail plastic is to isolate the fastener part from the connector. Therefore, the quality of the Rail plastic dowel pre-inserted into concrete sleepers is very important , especially its strength and fatigue life, is very important for the entire railway line. The combination of the Sleeper screw and the plastic insert makes the backing plate fasten to the sleeper by the rail clip. It has enough elasticity range to avoid loosening of the rail bolts and reduce maintenance work.
Rail plastic dowel is classified according to the material it needs: PA66 or HDPE, depending on the customer's different technical specifications, as follows:
Name

Rail plastic dowel

Type

For different sizes of sleeper screw

Material

PA66: Nylon 66.69%, glass fiber 30%, other 1%

HDPE

Technical specifications

Density:1.3-1.45g/cm3
Tensile strength: ≥170Mpa
Elongation: ≤4.4%
Bending Strength: ≥250Mpa
Impact Strength(No gap): ≥80KJ/m2
Melting point:250-270°C
Insulation resistance:≥1×108Ω
Glass fiber content:30-35%
Hardness:≥110HRR

Density: 0.95-0.98g/cm3
Tensile strength: ≥19Mpa
Elongation: >80%
Melting point: 170-190°C
Insulation resistance: ≥1×1010Ω
Hardness:≥98A

Color

.Yellow, black, white etc