1. Japanese Standard U-Shaped Steel Sheet Pile
Dimension
Size (width × height)
Active width (mm)
Active height (mm)
Plate thickness (mm)
Per price
Face per meter of pile wall width
Section area (cm2)
Theoretical weight (kg/m)
Inertia Moment Ix(cm4)
Section modulus Wx(cm3)
Section area (cm2)
Theoretical weight (kg/m2)
Inertia moment Ix(cm4)
Section modulus Wx(cm3)
SPU-Ⅰ
400
85
8
45.21
35.5
598
88
113
88.7
4500
529
SPU-Ⅱ
400
100
10.5
61.18
48
1240
152
153
120.1
8740
874
SPU-Ⅲ
400
125
13
76.42
60
2220
223
191
149.9
16800
1340
SPU-ⅢA
400
150
13.1
74.4
58.4
2790
250
186
146
22800
1520
SPU-Ⅳ
400
170
15.5
96.99
76.1
4670
362
242.5
190.4
38600
2270
SPU-VL
500
200
24.3
133.8
105
7960
520
267.6
210
63000
3150
SPU-ⅥL
500
225
27.6
153
120
11400
680
306
240
86000
3820
SPUⅡW
600
130
10.3
78.7
61.8
2110
203
131.2
103
13000
1000
SPU-ⅢW
600
180
13.4
103.9
81.6
5220
376
173.2
136
32400
1800
SPU-ⅣW
600
210
18
135.3
106
8630
539
225.5
177
56700
2700
Composition (%)
Standard
Grade
C(Max)
Si(Max)
Mn(Max)
P(Max)
S(Max)
N(Max)
CEQ(Max)
JISA 5523 &JISA 5528
SYW295
0.18
0.55
1.5
0.04
0.04
0.006
0.44
SYW390
0.18
0.55
1.5
0.04
0.04
0.006
0.46
Mechanical Properties
Standard
Grade
Yield point
(N/mm2)
Tensile strength
(N/mm2)
Elongation
(%)
Toughness
[(O℃)(J)]
JISA 5523
SYW295
≧295
≧490
≧17
≧43
SYW390
≧390
≧540
≧15
≧43
JISA 5528
SY295
≧295
≧490
≧17
-
SY390
≧390
≧540
≧15
-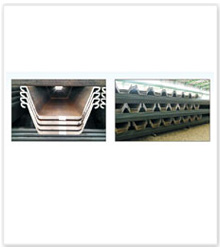 2. European Standard U-Shaped Sheet Pile
U-shaped sheet piles have been used extensively on both permanent and temporary works throughout the world .
U-Shaped piles have multiple advantages:
1. Wide range of sections in terms of geometrical characteristics, widening the choice of economically optimized profiles for particular project.
2. Great aptitude for repetitive use.
3. Wide range of section modulus, suitable for various type of construction purpose.
4. Service-proven to many types of project, such as permanent structures, temporary earth-retaining works and temporary cofferdams etc.
Specifications
| | | | | | | | | |
| --- | --- | --- | --- | --- | --- | --- | --- | --- |
| Size (Width×Height) | Width (mm) | Height (mm) | Thickness (mm) | Thickness (mm) | Plastic section modulus (cm3/m) | Weight (kg/m) | Inertia moment Ix (cm4) | Elastic section modulus (cm3/m) |
| SPU601 | 600 | 309 | 7.5 | 6.5 | 858 | 46.7 | 11496 | 742 |
| SPU602 | 600 | 309 | 8.2 | 8 | 990 | 54.3 | 13075 | 845 |
| SPU603 | 600 | 309 | 9.7 | 8.4 | 1308 | 64.8 | 18251 | 1180 |
| SPU604 | 600 | 380 | 10.5 | 9 | 1822 | 74.1 | 30726 | 1620 |
| SPU605 | 600 | 410 | 12.8 | 9 | 2256 | 82.4 | 41127 | 2006 |
| SPU606A | 600 | 420 | 14 | 9 | 2476 | 86.2 | 46217 | 2200 |
| SPU18-1 | 600 | 430 | 10.2 | 8.4 | 1988 | 72.6 | 35950 | 1670 |
| SPU22-1 | 600 | 450 | 11.1 | 9 | 2422 | 81.9 | 46380 | 2060 |
| SPU28 | 600 | 454 | 15.2 | 10.1 | 3269 | 101.8 | 64460 | 2840 |
| SPU32 | 600 | 452 | 19.5 | 11 | 3687 | 114.1 | 72320 | 3200 |
| SPU16 | 750 | 411 | 11.5 | 9.3 | 1891 | 86.3 | 32850 | 1600 |
| SPU20 | 750 | 444 | 12 | 10 | 2339 | 96.9 | 44440 | 2000 |
| SPU25 | 750 | 450 | 14.5 | 10.2 | 2866 | 110.4 | 56240 | 2500 |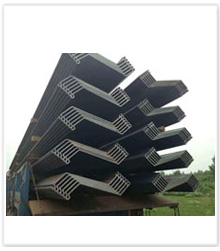 3. European Standard Z-Shaped Pile
The Z-shaped profile presents the following advantages:
1. Extremely competitive section modulus
2. Economical solution
3. Large width resulting in high installation performance
4. High tensile strength
5. Ideal for permanent structure project
Specifications
Size (Width×Height)
Active width (mm)
Active height (mm)
Plate thickness (mm)
Theoretical weight (kg/m)
Inertia moment Ix (cm4)
Elastic section modulus (cm3/m)
t
s
Single pile(Kg/m)
Wall (kg.m2)
SPZ48
580
481
19.1
15.1
140.2
242.2
115921
4820
SPZ12
700
314
8.5
8.5
67.7
96.7
18880
1205
SPZ13
700
315
9.5
9.5
74
105.7
20540
1305
SPZ14
700
316
10.5
10.5
80.3
114.7
22190
1405
SPZ17
700
420
8.5
8.5
73.1
104.4
36230
1730
SPZ18
700
418
9.1
9.1
76.9
110.2
37726
1807
SPZ19
700
421
9.5
9.5
80
114.3
39380
1870
SPZ20
700
421
10
10
83.5
119.3
40960
1945
SPZ24
700
459
1.2
11.2
95.7
136.7
55820
2430
SPZ26
700
459
12.3
12.3
103.3
147.7
59759
2604
SPZ28
700
461
13.2
13.2
110
157.2
63620
2760
SPZ36
700
499
15
11.2
118.6
169.5
89610
3590
SPU38
700
500
16
12.2
126.4
180.6
94840
3795
SPU40
700
501
17
13.2
134.2
191.7
100080
3995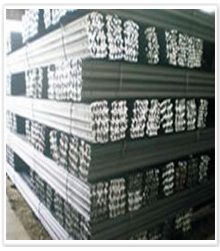 4. Chinese Standard Light Rail
Standard GB11264-89: GB6KG, GB9KG, GB12KG, GB15KG, GB22KG, GB30KG
Standard YB222-63: 8KG, 18KG, 24KG
Specifications
Standard: GB11264-89
Size
Dimension(mm)
Weight
(kg/m)
Material
Length(m)
Head(mm)
Height(mm)
Bottom(mm)
Web(mm)
GB6KG
25.4
50.8
50.8
4.76
5.98
Q235B
6-12
GB9KG
32.1
63.5
63.5
5.9
8.94
Q235B
6-12
GB12KG
38.1
69.85
69.85
7.54
12.2
Q235B/55Q
6-12
GB15KG
42.86
79.37
79.37
8.33
15.2
Q235B/55Q
6-12
GB22KG
50.3
93.66
93.66
10.72
23.3
Q235B/55Q
6-12
GB30KG
60.33
107.95
107.95
12.3
30.1
Q235B/55Q
6-12
Standard: YB222-63
8KG
25
65
54
7
8.42
Q235B
6-12
18KG
40
90
80
10
18.06
Q235B/55Q
6-12
24KG
51
107
92
10.9
24.46
Q235B/55Q
6-12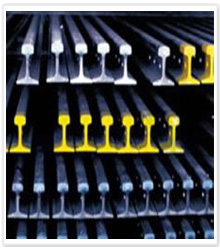 5、Chinese Standard Heavy Rail
Standard GB2585-2007: P38KG, P43KG, P50KG, P60KG
Specifications
Standard: GB2585-2007
Size
Dimension(mm)
Weight
(kg/m)
Material
Length (m)
Head(mm)
Height(mm)
Bottom(mm)
Web(mm)
P38KG
68
134
114
13
38.733
U71Mn
12.5-25
P43KG
70
140
114
14.5
44.653
U71Mn
12.5-25
P50KG
70
152
132
15.5
51.514
U71Mn
12.5-25
P60KG
73
170
150
16.5
61.64
U71Mn
12.5-25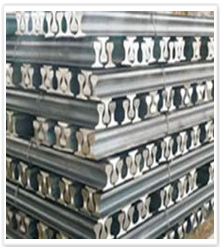 6、Chinese Standard Crane Rail
Standard YB/T5055-93: QU70, QU80, QU100, QU120
Specifications
Standard: YB/T5055-93
Size
Dimension(mm)
Weight
(kg/m)
Material
Length (m)
Head(mm)
Height(mm)
Bottom(mm)
Web(mm)
QU 70
70
120
120
28
52.8
U71Mn
12
QU 80
80
130
130
32
63.69
U71Mn
12
QU 100
100
150
150
38
88.96
U71Mn
12
QU 120
120
170
170
44
118.1
U71Mn
12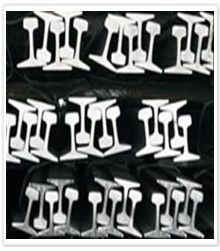 7. American Standard Steel Rail
Standard ASTMA1, AREMA: ASCE25, ASCE30, ASCE40, ASCE60, ASCE75, ASCE85, 90RA, 115RE, 136RE, 175LBS
Specifications
Standard: ASTMA1, AREMA
Size
Dimension(mm)
Weight
(kg/m)
Material
Length (m)
Head(mm)
Height(mm)
Bottom(mm)
Web(mm)
ASCE 25
38.1
69.85
69.85
7.54
12.4
700
6-12
ASCE 30
42.86
79.38
79.38
8.33
14.88
700
6-12
ASCE 40
47.62
88.9
88.9
9.92
19.84
700
6-12
ASCE 60
60.32
107.95
107.95
12.3
29.76
700
6-12
ASCE 75
62.71
122.24
122.24
13.49
37.2
900A/1100
12-25
ASCE 85
65.09
131.76
131.76
14.29
42.17
900A/1100
12-25
90RA
65.09
142.88
130.18
14.29
44.65
900A/1100
12-25
115RE
69.06
168.28
139.7
15.88
56.9
900A/1100
12-25
136RE
74.61
185.74
152.4
17.46
67.41
900A/1100
12-25
175LBs
109.86
152.4
152.4
38.1
86.8
900A/1100
12-25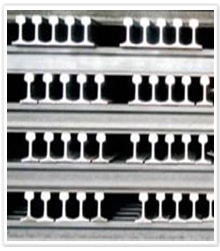 8. BS Standard Steel Rail
Standard BS11: 1985: 50O, 60A, 75A, 75R, 80A, 80R, 90A, 100A, 113A
Specifications
Standard: BS11: 1985
Size
Dimension(mm)
Weight
(kg/m)
Material
Length (m)
Head(mm)
Height(mm)
Bottom(mm)
Web(mm)
50 O
52.39
100.01
100.01
10.32
24.833
700
6-18
60 A
57.15
114.3
109.54
11.11
30.618
900A
6-18
75 A
61.91
128.59
114.3
12.7
37.455
900A
8-25
75 R
61.91
128.59
122.24
13.1
37.041
900A
8-25
80 A
63.5
133.35
117.47
13.1
39.761
900A
8-25
80 R
63.5
133.35
127
13.49
39.674
900A
8-25
90 A
66.67
142.88
127
13.89
45.099
900A
8-25
100 A
69.85
152.4
133.35
15.08
50.182
900A
8-25
113 A
69.85
158.75
139.7
20
56.398
900A
8-25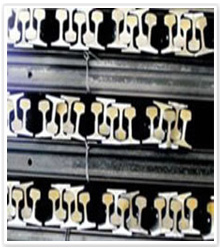 9. UIC860 Standard Steel Rail
Standard UIC860: UIC50, UIC54, UIC60
Specifications
Standard: UIC860
Size
Dimension(mm)
Weight
(kg/m)
Material
Length (m)
Head(mm)
Height(mm)
Bottom(mm)
Web(mm)
UIC50
70
152
125
15
50.46
900A/1100
12-25
UIC54
70
159
140
16
54.43
900A/1100
12-25
UIC60
74.3
172
150
16.5
60.21
900A/1100
12-25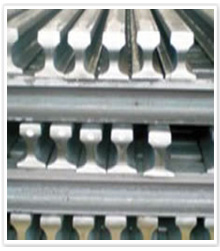 10. JIS Standard Steel Rail
Standard: JIS
Specifications
Standard: JIS E1103-91/JISE 1101-93
Size
Dimension(mm)
Weight
(kg/m)
Material
Length (m)
Head(mm)
Height(mm)
Bottom(mm)
Web(mm)
JIS 15KG
42.86
79.37
79.37
8.33
15.2
JIS E standard
9-10
JIS 22KG
50.8
93.66
93.66
10.72
22.3
9-10
JIS 30KG
60.33
107.95
107.95
12.3
30.1
9-10
JIS 37A
62.71
122.24
122.24
13.49
37.2
10-25
JIS 50N
65
153
127
15
50.4
10-25
CR 73
100
135
140
32
73.3
10-12
CR 100
120
150
155
39
100.2
10-12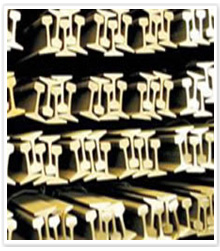 11. EN Standard Steel Rail
Standard EN 13674-1-2003: 49E1, 49E2, 50E1, 50E2, 50E4, 50E5, 50E6, 54E1, 54E2, 54E3, 55E1, 60E1
Specifications
Standard: EN 13674-1-2003
Size
Dimension(mm)
Weight
(kg/m)
Material
Length (m)
Head(mm)
Height(mm)
Bottom(mm)
Web(mm)
49 E1
67
149
125
14
49.39
R260/R350HT
12-25
49 E2
67
148
125
14
49.1
R260/R350HT
12-25
50 E1
65
153
134
15.5
50.37
R260/R350HT
12-25
50 E2
72
151
140
15
49.97
R260/R350HT
12-25
50 E4
70
152
125
15
50.46
R260/R350HT
12-25
50 E5
67
148
135
14
49.9
R260/R350HT
12-25
50 E6
65
153
140
15.5
50.9
R260/R350HT
12-25
54 E1
70
159
140
16
54.77
R260/R350HT
12-25
54 E2
67.01
161
125
16
53.82
R260/R350HT
12-25
54 E3
67
154
125
16
54.57
R260/R350HT
12-25
55 E1
62
155
134
19
56.03
R260/R350HT
12-25
60 E1
72
172
150
16.5
60.21
R260/R350HT
12-25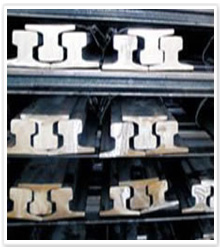 12.DIN Standard Crane Rail
Standard DIN 536 A55, A65, A75, A100, A120
Specifications
Standard: DIN536
Size
Dimension(mm)
Weight
(kg/m)
Material
Length (m)
Head(mm)
Height(mm)
Bottom(mm)
Web(mm)
A55
55
65
150
31
31.8
900A
10-12
A65
65
75
175
38
43.1
900A
10-12
A75
75
85
200
45
56.2
900A
10-12
A100
100
95
200
60
74.3
900A
10-12
A120
120
105
220
72
100
900A
10-12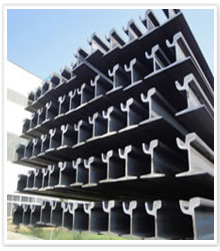 13. Tram rail (Grooved Rail )
Standard BS EN 14811: 2006: 59R1 59R2 60R1 60R2
Specifications
| | | | | | | | | |
| --- | --- | --- | --- | --- | --- | --- | --- | --- |
| Size | Height (mm) | Bottom (mm) | Head A (mm) | Head B(mm) | Channel A (mm) | Channel B (mm) | Web (mm) | Weight (kg/m) |
| 59R1 | 180 | 180 | 113 | 56 | 42 | 15 | 12 | 58.97 |
| 59R2 | 180 | 180 | 113 | 55.83 | 42.52 | 14.65 | 12 | 58.14 |
| 60R1 | 180 | 180 | 113 | 56 | 36 | 21 | 12 | 60.59 |
| 60R2 | 180 | 180 | 113 | 55.83 | 36.34 | 20.83 | 12 | 59.75 |